Queen Ronnell Bey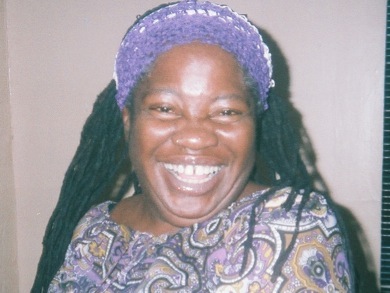 Grand Mother. Groove Maker.
When Ronnell Bey was introduced at Cecil's Jazz Club in West Orange, NJ, owner Cecil Brooks III said she was one of the best singers in the world. We are very proud to have our local diva of these times bring her talents to Rosebush. We plan to have Queen Ronnell Bey bless the mic with the Radical Revolution while helping her create a new jazz group in the near future. Watch for Ronnell to be wearing the Sherry Sheath dress. Watch for her dancing and acting skills. And watch for her granddaughter to maybe do some singing too; she already sounds like she is going to do a lil sum-sum. Want to hire Ronnell Bey and her band for a jazz performance? Click on Contact Us and let us know.
Birthday: August 3

College: Rutgers University, B.A.

Major: Theater Arts & Speech

Favorite Book: The Spook Who Sat By The Door by Sam Greenlee

Favorite singers: My Uncle Andy Bey & Aunts Salome and Geraldine

Favorite Food: All of 'em

Favorite Quote: (not for tender ears)

My other favorite artists

1.Sarah Vaughan

2.Max Roach

3.Sekou Sundiata

My favorite links

Strategy #1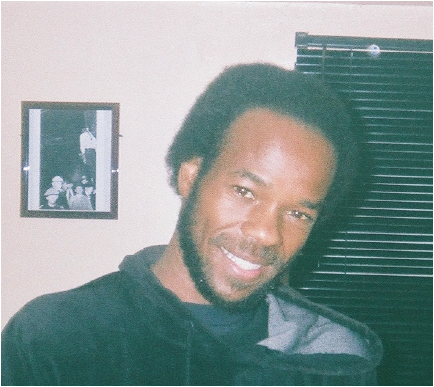 Keyboards, trumpet, track shoes
Strategy #1 is a soldier of life. Love is his weapon and fitness is his form of victory. He runs about 14 miles every other day. He runs road races with the Slow Pokes club. Strategy #1 also rides bicycles for profit and for basic transportation. Oh, and he loves to play his keyboard as well as the trumpet, and sings too. For lessons, drop him a line at Contact Us or find him on Facebook under Strategy Shaw.
Name: Dawiyd David L. Shaw

Birthday: September 29

College: Attended Essex County College

Military experience: U.S. Army 1980-86

Military duty: Tactical wiring specialist, played trumpet in U.S. Army Band

Favorite Color: Green

Favorite Books: by Malachi Z. York

Favorite Movie: The Great Debaters

Favorite Food: Vegetarian

Favorite Quote: Less is best.

My favorite songs

"I just love music"

My favorite link

Craig "Mista Rhythim" Mitchell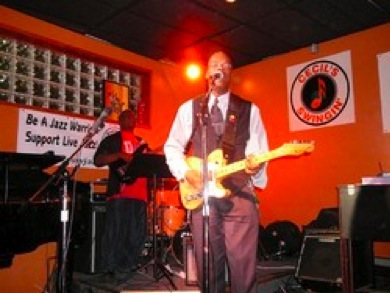 Guitarist, singer, music teacher
I specialize in (the lost art of) rhythm guitar. For many years, I taught guitar, drums, and music theory at DeBellis School of Music in Newark, NJ. I enjoy playing jazz standards, classic rock, gospel, lounge, and smooth jazz.
My guitar influences include Wes Montgomery, Claydes Charles Smith, Jimmy Nolan, Cornell Dupree, Jimmy Ponder, Sister Rosetta Tharpe, T-Bone Walker, B.B. King, George Benson, Phil Upchurch, Clarence "Gatemouth" Brown, Charlie Christian, Buddy Guy, Thornell Schwartz, Wah Wah Watson, Freddie Green, Eric Gale, Doc Powell, Jeff Tamelier, Albert Collins
To hire me for performances or lessons, you can inquire at Contact Us (see at left). To find out where I'm playing jazz and blues, please visit me at http://www.bandmix.com/mr-rhythm/ or on Facebook under Craig Mitchell.
Name: Craig Mitchell
Birthday: September 5
College: Chamberlayne Junior College
Major: Business
Favorite Book: The Spook Who Sat By The Door by Sam Greenlee
Favorite Movie: Malcolm X
Favorite Food: Pizza
Favorite Quote: The future only goes in one direction.
My favorite songs
1.Let's Straighten It Out
2.A Day In The Life (Wes Montgomery version)
My favorite links
www.myspace.com/thebernettajonesband
Robert Gosier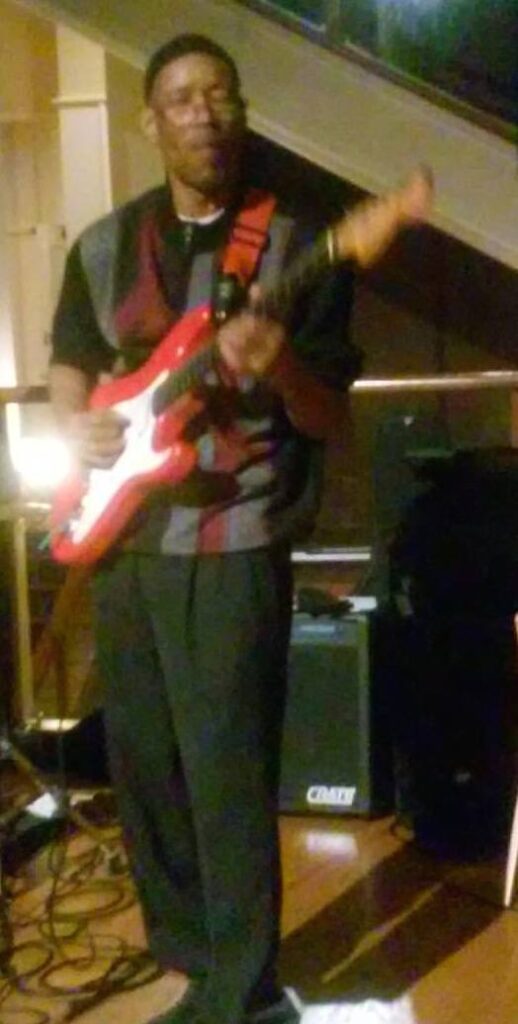 Player, Composer, Producer
Rob's last name, Gosier, is a French word meaning "throat." In ancient thought, the throat is a chakra, one of the energy centers of the human body. The throat represents the function of honest, open communication and expression.
As a musician, Robert Gosier brings a true feeling of musical understanding to the songs he plays and writes. Rob is a highly skilled guitarist; his sound is rich and beautiful. In his hands the instrument at times gives off rhythmically impressive sheets of information, at others, pinpoint rhythms of sensitive precision.
As a composer, Rob's tender love song "Key to My Heart" is part of our Radikal Revolution 3-Album Songbook. Rob also created the music that became our dance song, "Brick City Genius."
To record with Rob as player or producer, or to bring his music to your gig, you can click on Contact Us or reach out to him on Facebook under Robert Gosier.
Chris "Bassiee" Wall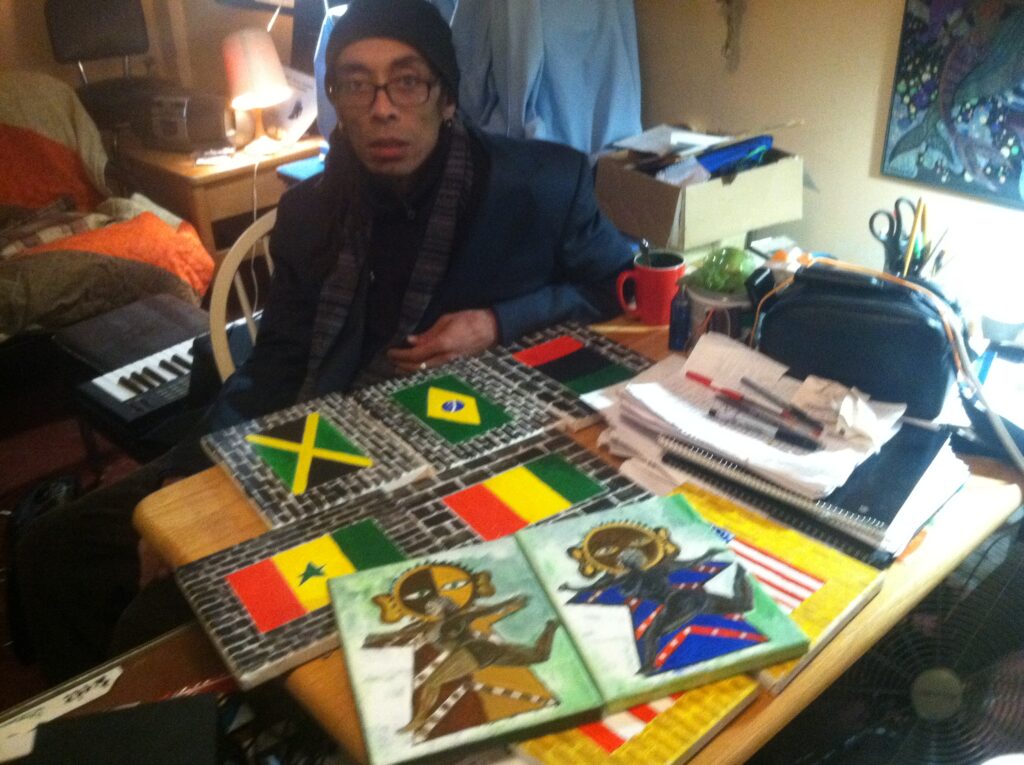 Musician, painter, free spirit
Chris "Bassiee" Wall is an artist who paints in both color and sound. He is also a bass player whose hand-to-mind connection strokes out an audio landscape for the third eye. Or should I say the third ear? However you hear your music, for your visual enjoyment Bassie's paintings are available both in print form and on T-shirts.
Name: Chris Bassiee (Base-ee) Wall.
Birthday: February 21.
Favorite food: Ital.
Favorite Quote: To be or not to be.
Favorite song: 2112.
Favorite Link. www.google.com
To find out more about the art of Chris "Bassiee Wall, please click on Contact Us or find him on Facebook under Christopher L Wall.
Ralph Sanders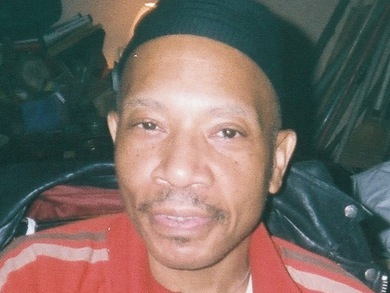 Percussionist. Painter. Illustrator.
Art is Ralph Sander's bag. Literally. And not just because he is an internationally active illustrator, painter, and musician. Also because Ralph carries a bagful of percussion instruments that helps him deliver a broad spectrum of sounds. His gongs, drums, whistles, horns, clickers, clackers, do-dads and devices contribute just the right rhythms for our songs. You can find out much more about the artist Ralph Sanders, and view his beautiful artwork, at www.ralphsanders.com
Name: Ralph Raouf Sanders

Art Education: School of Fine and Industrial Arts, Newark, NJ, Art Workshops

College: NY School of the Visual Arts — Bachelor of Fine Arts & Media Arts Concentration.

Advanced Education: Studied under Mati Klarwien

Exhibitions and Performances:

Ralph has shared his art in the USA, UK, France and Spain. Also:

– 2009 Seed Visionary Art show, at The Priory in Newark – art show and music performance

– 2009 Green Acres Estate, Maine – music performance

– 2008- 2009 Artist studio Tour

– 2007 Gary Barat Foundation, Newark – group show/music performance

My favorite musicians

1.Nina Simone

2.Miles Davis

3.Jimi Hendrix

My favorite links

Below is one Ralph's creations, "Birth".For more information about Ralph Sanders and his work, click on "Contact Us" or find him on Facebook under Ralph Sanders.
"Birth"
By Ralph Sanders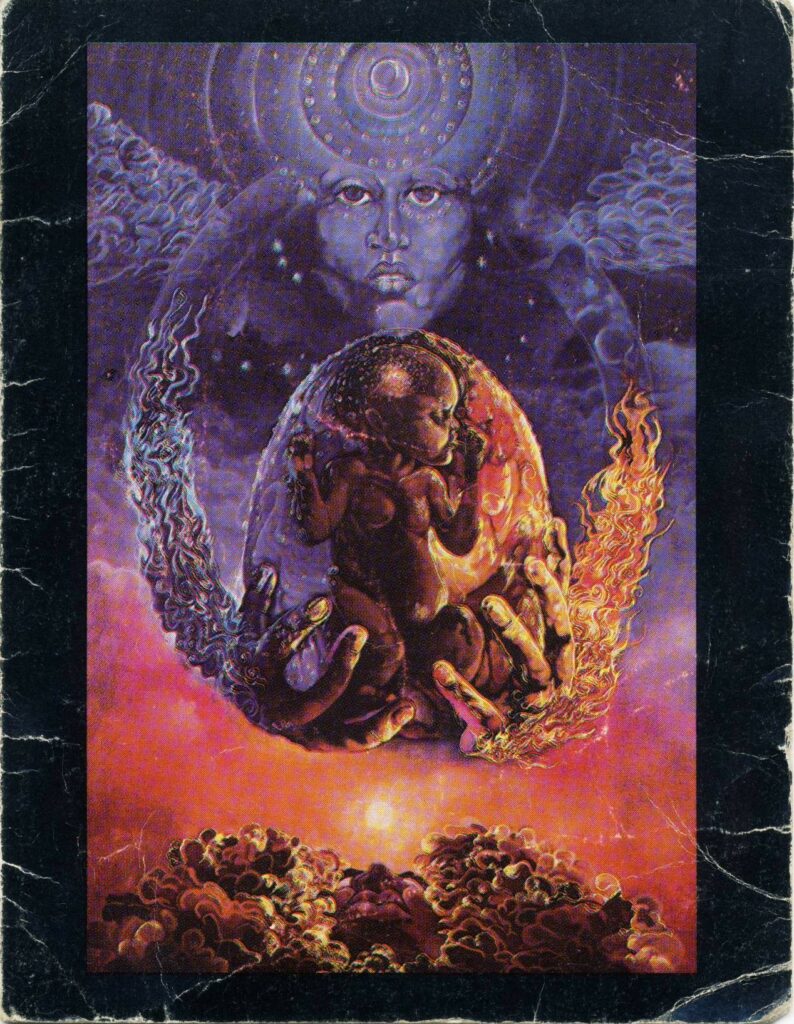 Professor Baya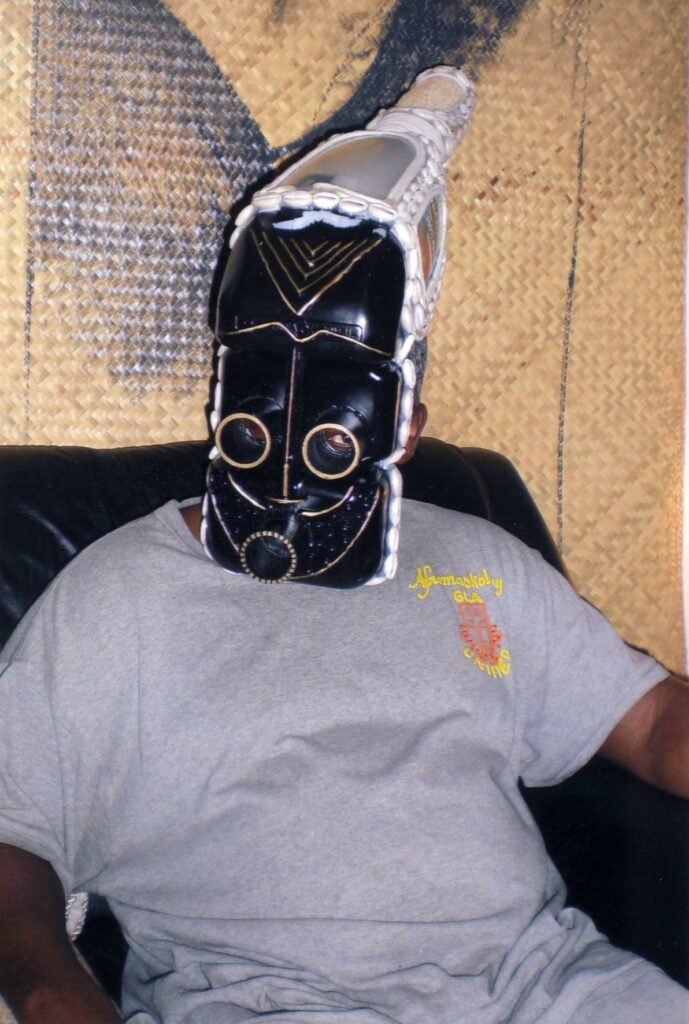 Artiste Extradordinaire de l'Afrique

We wrote the above description of our percussionist, Professor Sompohi Baya, in French because he is from Ivory Coast on the continent of Africa — where they speak French. Also, because Professor Baya is an extraordinary artist who is trained and triumphant in painting, sculpture, stonework, ironwork, and more. My favorite works of his are the recycled pieces, made from milk cartons and other materials. His handmade percussive instruments crafted from gourds are of top quality I also enjoy his raffia pieces, fashioned using grass mats weaved in his hometown in Ivory Coast. His current artistic directive, in the creative period of his career that's happening now, is called "Glalogy". The "Gla" is what is commonly known in U.S. American culture as the "African mask". In Ivory Coast, the Gla is the spiritual connection to the ancestors. Professor Baya teaches that the European church evolved from the African spiritual system, and this phenomenon is displayed when you take the Gla and turn it upside down. See? The view turns from an African mask to an image of a gothic church. Buy a Baya today! For more information about Professor Sompohi Baya, go to his Facebook site under "Sompohi Baya" or call him at 973-393-1304.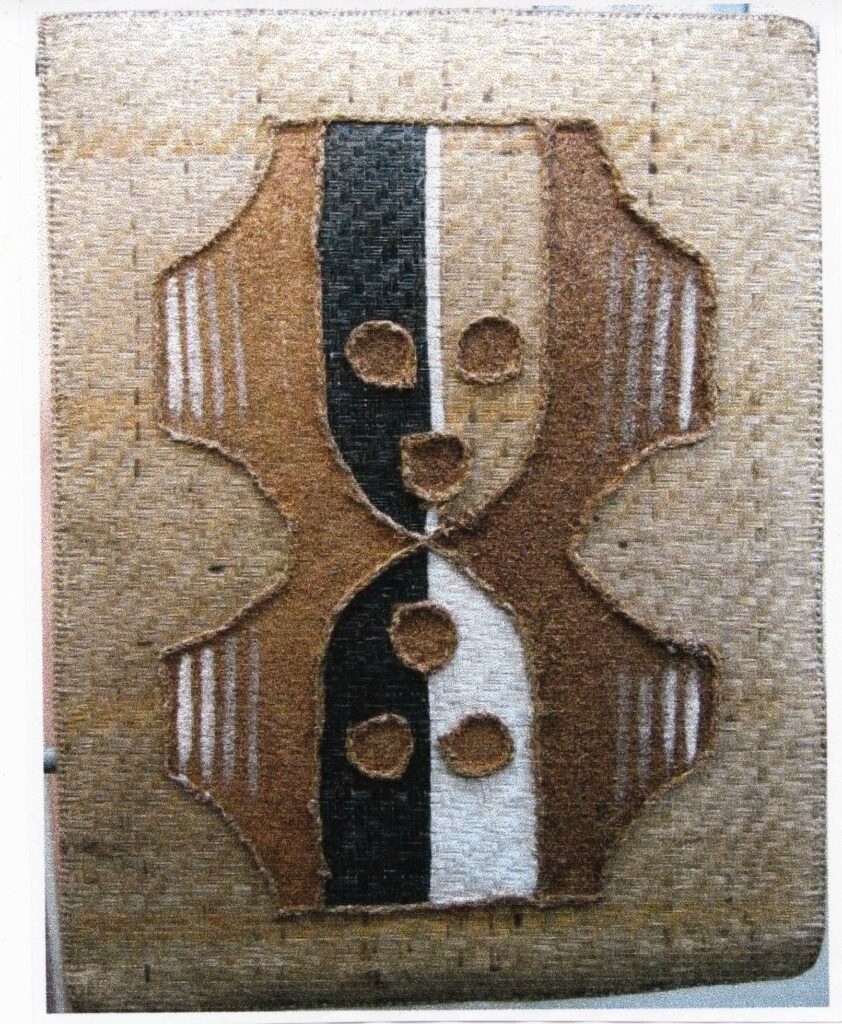 "Double Gla"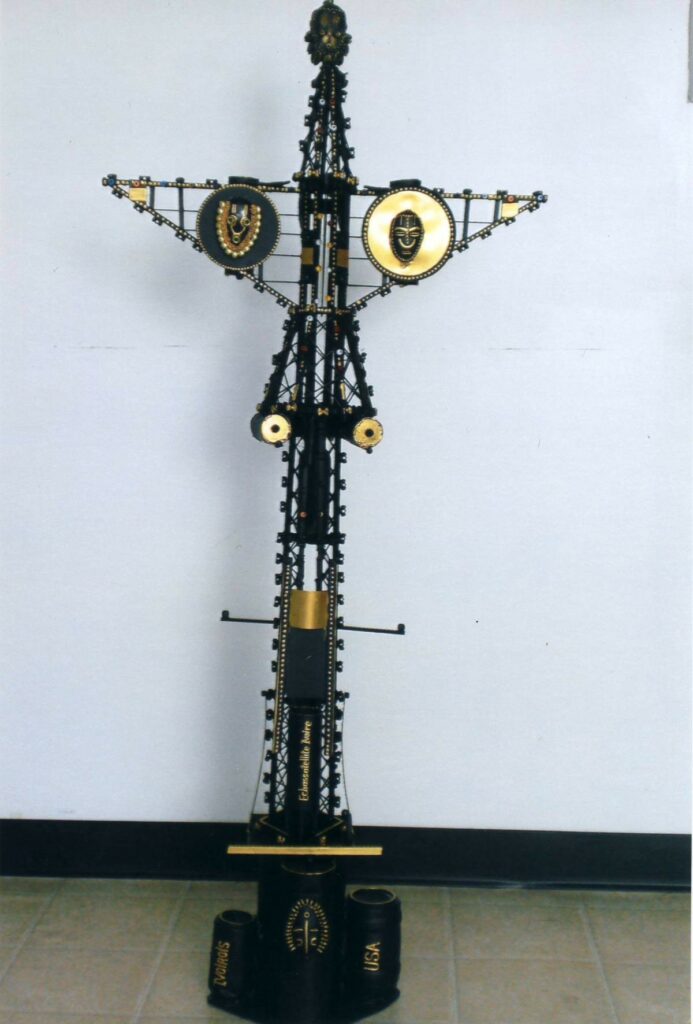 "Gla Cross"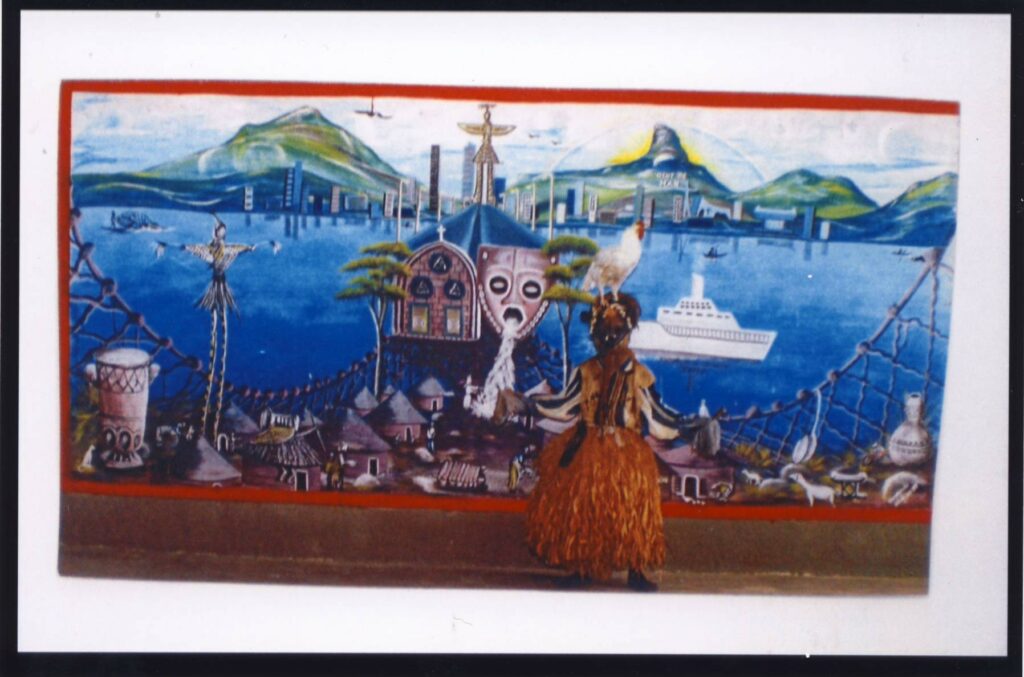 "Gla Panoramic"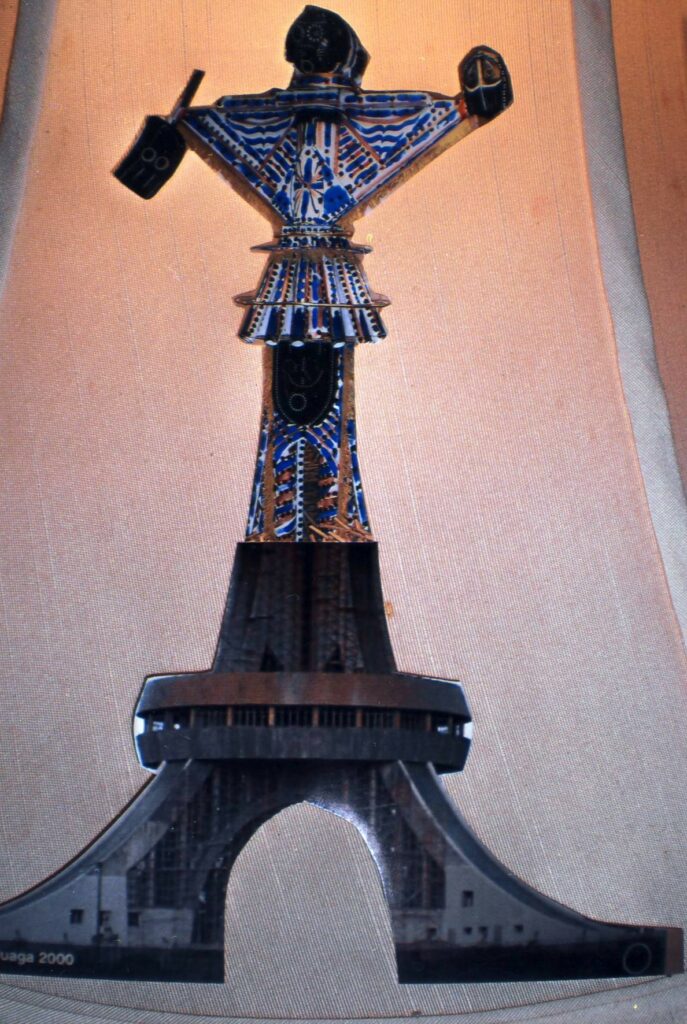 "Glaffel Tower"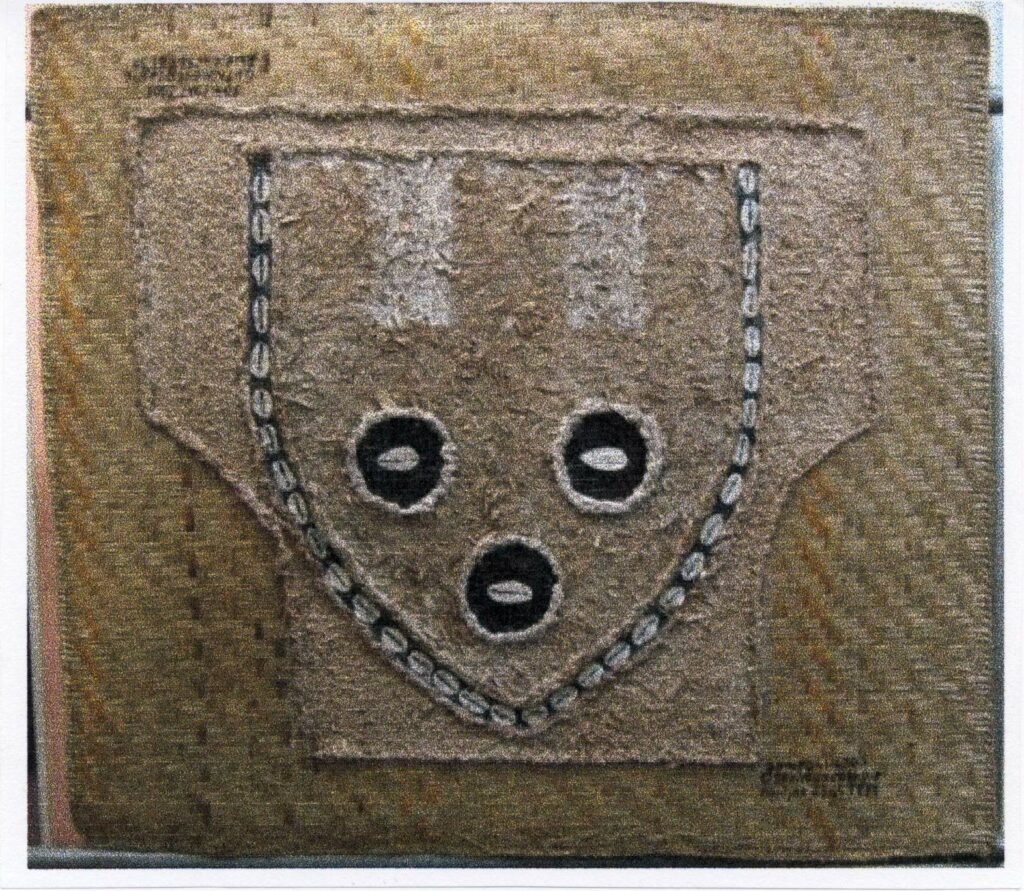 "Gla Mat"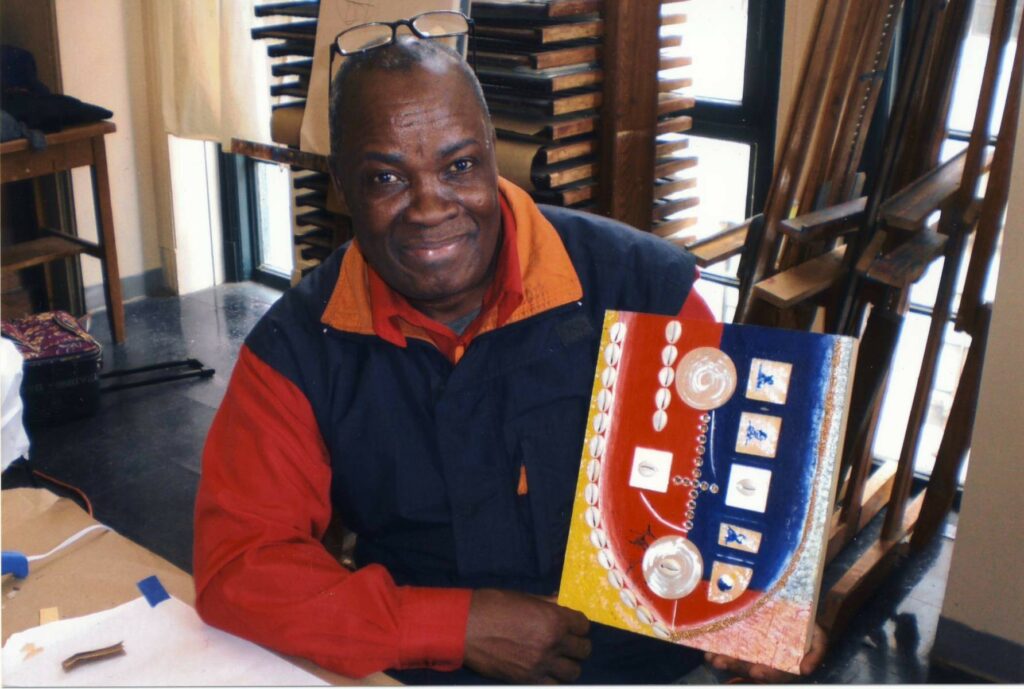 =Professor Sompohi Baya and one of his Gla creations.

For more information about Professor Sompohi Baya, go to his Facebook site under "Sompohi Baya" or call him at 973-393-1304.
Christopher Jackson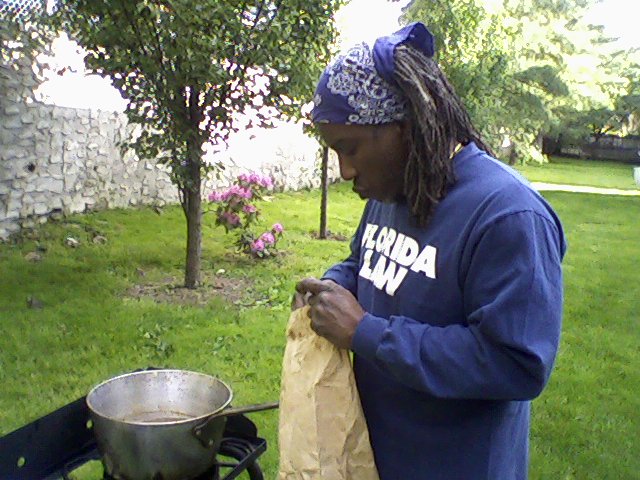 Heat to The Beat
Our newest member is a singer, percussionist, and dancer. Christopher Jackson is also a sculptor, a lawyer and a creative cook. Chris' voice blends in with our other singers like we're birds in trees. His hands help form the beats that rule our sound. His energy is like fire, heating up the musical dishes we serve into the universe. The multi-faceted artistry of Christopher Jackson all comes together with vocals, beats, and rhythms that pump up the heartbeat of the Radikal Revolution.
To reach out to Christopher Jackson, click on Contact Us or reach him on Facebook under Christopher Jackson.
Walter "The Wizard" Gilmore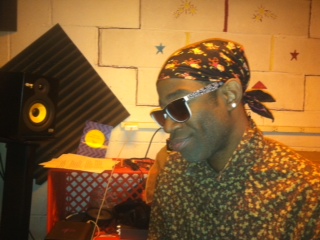 Virtuoso in the Studio
Walter "The Wizard" Gilmore is a music producer and entrepreneur who was born in Newark, New Jersey and raised in East Orange, New Jersey.
Walt the Wizard's musical career spans from 1988 through today. Two of the songs he worked on in the past, "What Would You Do?" and "Best Friends" from the soundtrack for the movie "Life" were nominated for a Grammy Award. Now he is with Rosebush, producing beats like "Cory Booker, Where's My Motherlovin' Money?", "Rebirth of the Earth" both of which can be found on this website under Rosebush Products, as well as other songs we will release in the future.
To buy Walt the Wizard beats for your project, click on Contact Us or find him on Facebook under Walter Gilmore.
Ernest Cooper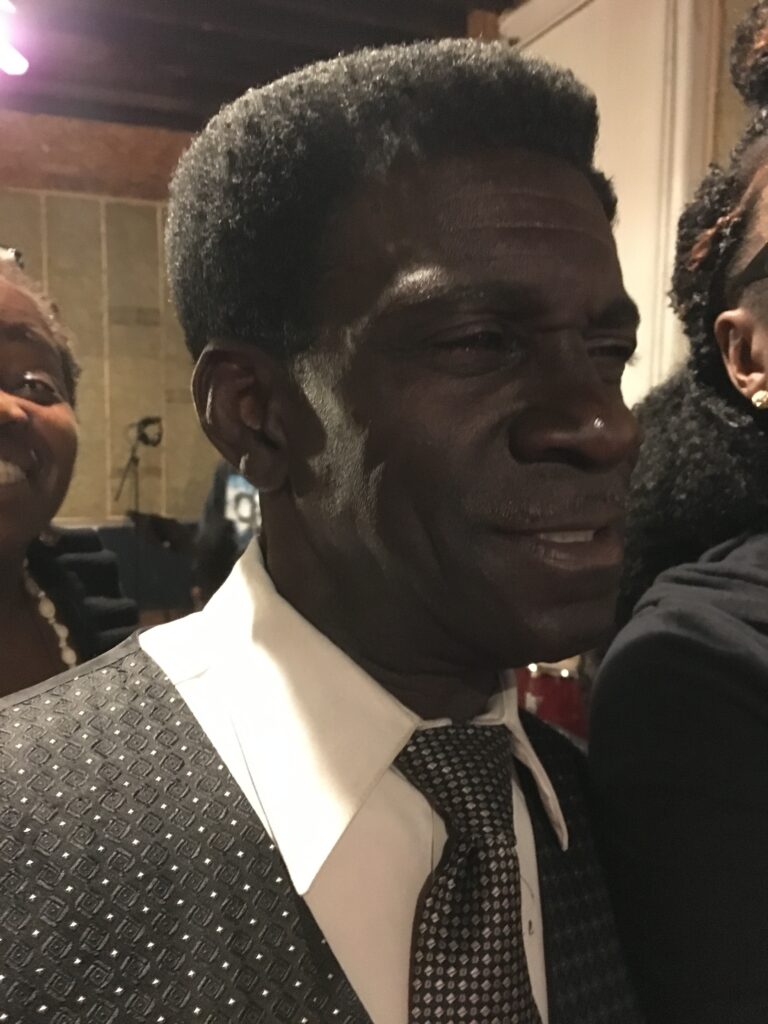 Deep is the Drum
Ernest Cooper is a timekeeper who possesses history in his hands and mind. The ancient forces called upon when he hits the drums speak to the understanding he shares about the universe. Ernest is highly informed on the roots of high knowledge, and the way he plays helps our players stay grounded in the groove. To hire Ernest Cooper for your program or show, click on Contact Us or find him on Facebook under Ernest Cooper.
Whirlwind Rickey Joyce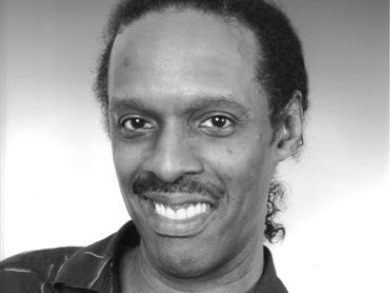 Complete list of
Rickey Joyce's
Personal Astrological Services:
1.Natal Charts $5-$125
2.Predictive Report (3-24 mos.) $20-$95
3.Relationship Report $35-$55
4.5-Year Progressed Reading $250
5.Esoteric Reading $135
6.Vocational Guidance Reading $65
7.Relocational Reading$75
8.Horary Reading $50
9.Business Analysis $150
10.Creativity Analysis $65
11.Electional Reading $50
12.Compatibility Reading$75
13.Speculation Reading $80
14.Composite Reading $75
15.Fertility & Family Planning Reading $75
16.Child Guidance Reading$50
17.Hiring the Right Employees $65
18.Potential of Your Newborn $45
19.Self-Discovery Through Pluto $50
20.Self-Discovery Through Self-Awareness $50
21.Health Reading $60
22.Mythology in The Horoscope $65
23.Asteroid Report $40
24.Astrological Geomancy Reading $25
25.12-Month Forecast $150
Jawaad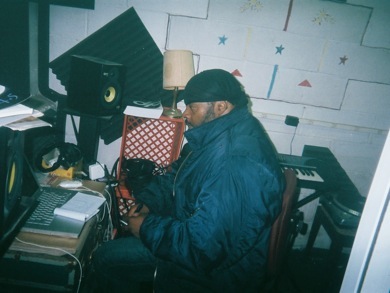 Producer, Musician, Martial Artist
Jawaad Muhammad El-Bey was a songmaker whose creations help fuel The Radikal Revolution. A strong consciousness of worlds and dimensions leads his rhythms and melodies against the evils of don't wanna dance and the devil we face in our society. Jawaad was a music maker with awareness as well as a warrior who taught Kenpo Karate. For musical art that takes a stand in the beauty of your mind, listen for his influence on our upcoming third album.
Name: Jawaad Muhammad El-Bey

Age: 51

Birthday: April 15

College: Attended Jersey City State

Major: Education

Favorite Color: Green

Favorite book: Malcolm X & Roots by Alex Haley

Favorite Movie: Coming to America

Favorite Food: Seafood

Favorite Quote: Closed mouth don't get fed.

Name of His Company:

Soul Patrol

My favorite songs

1.Knee Deep by Funkadelic

2.Cosmic Slop by Funkadelic

My favorite links